Kanye West has gone off on another one of his rants earlier this morning.
This man wants the smoke with everyone and he's becoming an exhausting little menace.
So, Ye, or whatever he wants to be called, woke up this morning and took to his social media to attack ex-wife, Kim Kardashian, her boyfriend, Pete Davidson, celebrity blogger Perez Hilton, and comedian D.L. Hughley.
Is it just me or does Kanye seem to go off the deep-end everytime he witnesses Kim and Pete hanging out together? I don't think it's just me. And here's why.
A few days ago, Kim posted some cute Instagram pics of her and Pete hanging out, enjoying each other's company. And, of course, the snapshots circulated like wildfire.
We know that's like pouring acid on Kanye's wounds, since he cannot stand to see Kim with another man, although he's out here jetsetting across the country with her doppelganger, in the form or Chaney Jones. Make it make sense please.
In Kanye's typical narcissistic fashion, he hopped onto Instagram to give his followers a run down of the latest conversation that he had with his ex. He accused Kim of antagonizing him by still allowing their 8 year-old daughter, North, to play around on TikTok and keeping North away from him. If I recall, he and North were just together, publicly, at the Superbowl. But, okay.
He goes on to claim that Pete was harrassing him by sending a selfie and telling him that he was in bed with his wife. (The actual text messages were leaked shortly after Kanye's rant.) Let's not forget that Kanye is the same man who created a claymation video for his song, "Eazy", which depicted him kidnapping and decapitating Pete, and when he was called out for his sick behavior, he clapped back at his critics by saying that it was art. Oh, okay, psycho.
But, no, no, no. Mr. West did not stop there. He demanded that Perez Hilton never place abuser by his name again. Then, he went on to really dig into comedian D.L. Hughley for previously saying that Kanye was exhibiting stalker behavior. Kanye actually threatened Hughley by spewing, "I can afford to hurt you."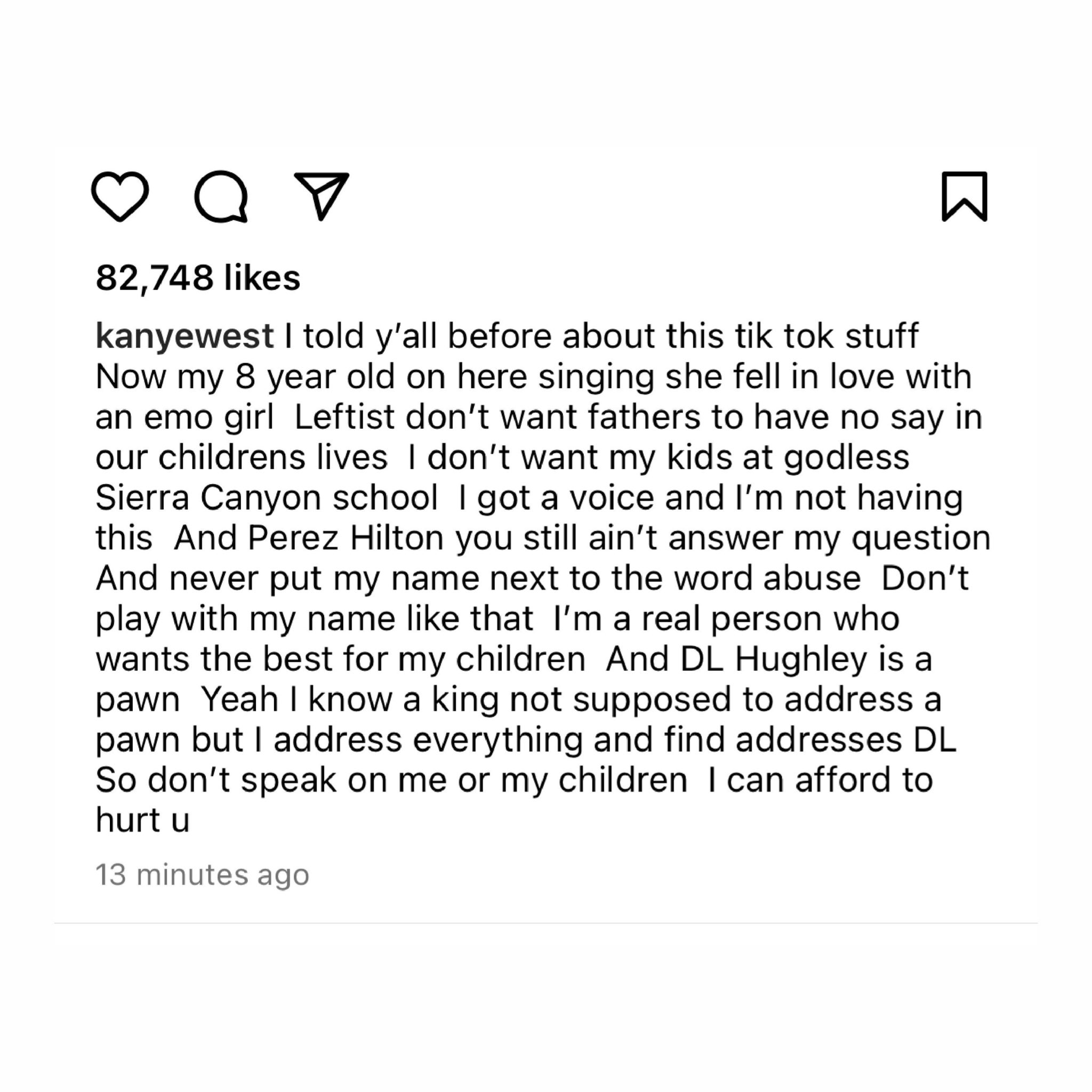 It was no time before Hughley participated in a little clap-back roasting session of his own: